alex@portsmouthvocalpractice.com
Established: 2007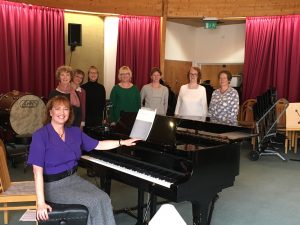 Students 

Vocal Coaching
Regular Term Time Timetable: 
Monday
Tony J: 12:30 – 13:30 (F)
Southampton Choral Union 19:00 – 21:30
Tuesday
Pippa J: 18:30 – 19:30 (F)
Nathan J: 19:45 – 20:15 (F)
Anita G: 20:15 – 20:45 (FF)
Wednesday 
Louise C: 18:00 – 18:30 (F)
Q: 18:30 – 19:00 (F)
Catherine C: 19:00 – 19:30 (F)
Tiff. W: 19:30 – 20:00 (F)
Thursday

Ella H: 18:00 – 18:30 (F)
Lily T: 18:30 – 19:00  (F)
Amy H: 18:30 – 19:00 (bi-weekly) (Change)
Friday
Catherine O: 14:15 – 15:00 (F)
Sarah R: 16:00 – 16:30 (bi-weekly) (F)
The Renaissance Choir: 19:30 – 21:30
Friday
Nathan J: 10:30 – 11:30 (bi-weekly)(F)
Concerts
Rotary Club Recital:  Wednesday 14th 2018
Portsmouth Choral Union Timetable: 
Tuesday 21st March 2017.

Tuesday 25th April 2017

Tuesday 16th or 23rd May 2017.
Testimonials:
Catherine O'leary 
Thank you for all you have done to dramatically improve my singing and prepare me for the a.b. diploma.
Sophie Singleton 
When I started singing lessons with Alex, I had never taken a singing exam. He has developed my voice, my musical understanding and built up my confidence. Two years later I have now achieved grade 8 at distinction with Alex's help and guidance. He is a great teacher to work with.
Background
Alex founded Portsmouth Vocal Practice in 2005 and coaches singers at Portsmouth Choral Union, Southampton Choral Society and Emsworth Renaissance Choir.
Alex enters students for Trinity Guildhall, ABRSM and London College and has a pass rate of 100% and a Distinction/Merit rate of 70%.
Students have gone on to study singing at the leading London College's of Music, Birmingham Conservatoire, Oxford and Cambridge Universities. Many have  achieved roles in West End Shows, with professional Opera companies. Students include finalists on Britain's Got Talent and the winner of the BBC's Choirister of the Year Award.