Vocal Practitioner and Musician
BMus Hons, AdvPgDip, Birmingham Conservatoire,
Opera Cert. The Franz Liszt Academy, Budapest, Weimar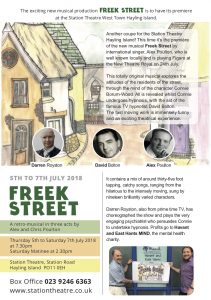 French Connection at The Sidholme Hotel
An unusual and highly professional presentation was given to a very enthusiastic audience in the Sidholme Music Room on Sunday afternoon.
Baritone singer, Alex Poulton, locally known to many as a singing teacher, was very sensitively and ably accompanied by pianist Simon Watterton.
Both have distinguished performance careers. The programme started with a serious but beautifully crafted set of three Schubert songs. These three contrasting pieces enabled the audience to hear the range of Alex's fine voice and appreciate the concert grand being played most beautifully.
The next pieces, Debussy's Fetes Galantes I & II were accompanied by a new film shown at the same time.
The film, shot by Jack Oliver was directed by Lyn Ferrand. The two young actors, were in the audience for the premiere showing. It was natural and artistic, and added a touch of romanticism to the musical performance, with the young lovers dancing around the trees, showing the emotions of the ever-changing music.
Mozart Opera was next; and Alex showed his natural acting ability and grasp of the music as he sang two of Papageno's amusing songs, using the whole space of the room.
His diction in German was outstanding. The final song came from the Marriage of Figaro in Italian, equally well presented and sung by heart.
The programme was rounded off with two English songs, by Ivor Novello and Noel Coward presented again with panache and humour.
Angela Bea: Sidmouth Herald / Friday May 4th, 2018
 Without Music Life Would be a Mistake
-Friedrich Nietzsche, Twilight of the Idols-