Alex Poulton  BMus Hons, AdvPgDip, Royal Birmingham Conservatoire , Adv. Opera Cert, Franz Liszt Academy, Budapest  Lieder Cert, Hochschule für Musik Franz Liszt, Weimar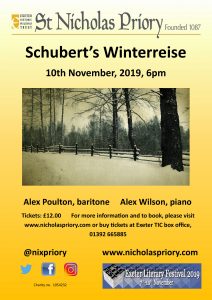 English baritone Alex Poulton has performed in recital and opera in major festivals throughout Europe and in many of the worlds leading concert venues. He has sung roles with Grange Park Opera, Longborough Festival Opera, Scottish Ballet, Columbia Artists, U.S tours; Midwales Opera, Chiswick House Opera Festival: London, Focus Opera, Opera Budapest, Opera by Definition, Court Opera and The Zeist Opera Festival, Netherlands.
Forthcoming performances include a dramatized U.K. tour of Man is for the Woman Made by Henry Purcell for Opera Ridotto, The Marquis from The Carmélites by Poulenc with Mid Summer Opera: London, Winterreise at The Priory with pianist Alex Wilson for the Literary Festival, Exeter and short revival tour of The Secret Policeman inThe Consul. 
Alex also runs two successful vocal practices composes and produces his own operas and is the vocal coach for several choral societies and professional choirs.
Recent Review
Alex Poulton has exceptional gifts communicating the particular character of each song.
Whether in the haunting poignancy of Butterworth's  'Is my team a ploughing?' or the flippant dexterity of Coward's 'Mad Dogs and Englishmen', Alex Poulton knows how to point the words.
The capacity audience loved his wide ranging and satisfying recital.
William Cole (Chairman of The Elgar Society) 
11/02/19